Dublin Airport Terminal 2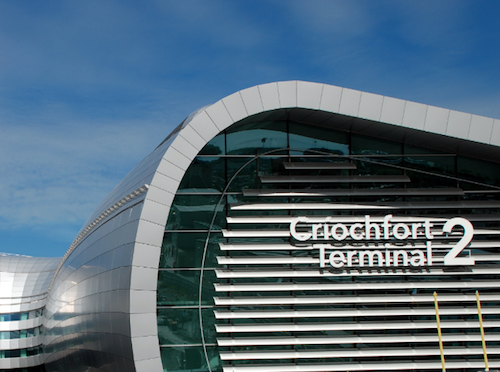 THE CLIENT
The D.A.A. (Dublin Airport Authority) is responsible for the operations in and around Dublin and Cork Airports. The company (including retail) had a 2012 turn-over of over €575 million
Dublin Airport handles upwards of 16 million passengers each year.
---
THE BRIEF
The brief was to supply a reliable emergency lighting system to Terminal 2. Access to ceilings would be limited, after the installation was completed. The emergency lighting system was to be capable of running the emergency lighting load at 100% for 180 minutes. Change over from normal supply to emergency supply was to be as seamless as possible, with the minimum break during change over to reduce passenger discomfort. Traditional self-contained emergency lighting would not illuminate the floor to the requirements set out by the D.A.A. – 10 lux average in all public areas, due to the high ceilings involved.
A DALI (Digital Addressable Lighting Interface) system would be used to control both the lighting and testing of the static inverters.
---
THE SOLUTION
This was achieved with the use of 9 individual sine-wave static inverter systems. Each system is tailored to suit the area of installation.
The sine-wave inverters all operate in an active off-line mode, reducing the wear on inverter components. The lighting load is supplied via an internal bypass, from the airport mains supply. On mains fail, the inverter will supply the load through a static switch, meaning that there is no discernable break in the operation of the lighting.
Each system is a balanced 3 phase-in/3 phase-out system and is capable of tripping a distribution fault up to 32A.
---
KEY FEATURES
100% light output from designated emergency luminaires.
A centralised battery which gives easy access for maintenance work to be carried out.
Balanced three-phase operation.
Remote testing is possible via a KNX interface to the lighting control system
Remote monitoring of the sine-wave inverters, via KNX interface and SNMP (Simple Network Management Protocol), in case of system fault or failure.
The KNX system allows the terminal maintenance staff to carry out targeted maintenance.
Copyright acknowledgement
All images of Dublin Airport are © DAA plc.
---